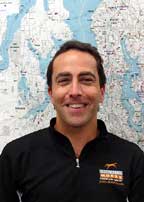 Steve Ruggiero President
Steve formed First American Properties, Inc. in 1987 to concentrate exclusively on the shopping center industry throughout the Pacific Northwest. He has been involved in the sale and leasing of commercial properties since 1979. Prior to forming First American, he spent four years in the retail division of the Seattle office of Grubb & Ellis.
He specializes in the representation and marketing of power centers throughout the Pacific NW with an emphasis on surplus disposition on a regional basis. He has completed multiple surplus assignments on packages including Home Depot, Office Depot, Safeway, OfficeMax and Ernst Home Centers . Steve has done numerous store roll outs on behalf of chains including Hobby Lobby, Ashley HomeStore, Carmax, Office Depot, OfficeMax and many others throughout the NW.
He has negotiated an extensive number of sub-leases, build-to-suits, and shopping center leases for a leading list of national clients. Ruggiero is an active member of the International Council of Shopping Centers. He holds a Bachelor of Science in Administration and Marketing from the University of Puget Sound.